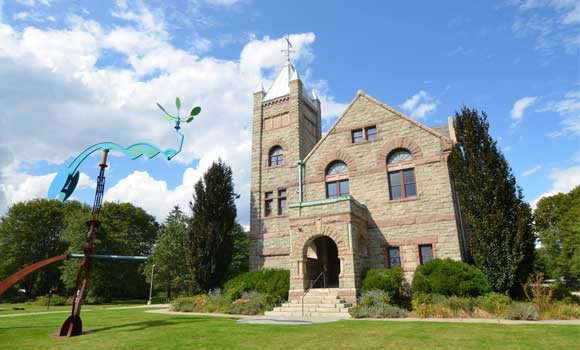 The Courthouse Center for the Arts
The Courthouse Center for the Arts, on Rte 138 between the University of Rhode Island and Amtrak's Kingston Station, celebrated its 28 anniversary as southern Rhode Island's pre-eminent arts organization. We have a full service bar, plentiful parking on premises, air-conditioned and we are handicap-accessible.
Our Mission
The Courthouse Center for the Arts, a non-profit community-based arts organization located in Kingston, R.I., was founded in 1988. The newest mission of the Courthouse Center for the Arts is to produce and offer free children's program, community outreach low cost rentals for fundraising, weddings, arts and music programs and more. With exceptional art programs, the Courthouse has upped its game to more fun, year round and exciting happenings. Gallery openings are monthly therefore showcasing more and more local artists. You will find an Art Gallery Opening around the first of every month with numerous artists on display all month long. Searching far and wide has provided the best musicians to entertain you and get you dancing or swaying in the audience, while the Courthouse still shows it's support for local musicians and nearby budding artists as well. CD's are recorded for new bands and interns are welcome to hang out with us. National acts and Stars, from all over, continue to visit us and show their love and support of the Courthouse. We are committed to providing accessible, affordable programming for adults and free programs for children, all while volunteers help to preserve the coolest building around and formally called The Washington County Courthouse, the locals call us THE KINGSTON COURTHOUSE.
We focus and pride ourselves on providing services not offered by other nearby facilities, and work to achieve distinction. Excellence in education, fine entertainment, outreach and increased community involvement are our new goals and aspirations. Come help us grow by attending an event, volunteering, participating in programs, teaching programs, or just hanging out.
The Courthouse Center for the Arts is proud to serve the Rhode Island Community and is open to new programming and events. Please feel free to contact us at 401.782.1018
We are a non profit 501(c)(3) organization, ein 05-0440571. All donations are 100% deductible when no goods or services have been provided.
---
Board of Directors
Director: Chief Vincent Carlone
Director: Debra Murphy
Director: Margaret Fredette
Director: Mariann Almonte