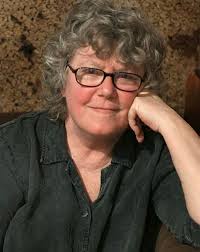 Singer, Song Writer,  Cheryl Wheeler's songs are often emotional portraits of people, leaving you with the impression that you know the characters. You find yourself being dragged into the song rather than standing outside and observing. Other songs by Cheryl are hilarious situation comedies.
She has never had a "Day Job". Her first professional gigs were at the Steak and Ale Restaurant in her home town of Timonium, Maryland. The place only had one PA system; in the middle of her songs you would hear: "Jones, party of four … Jones, party of four". She finally convinced them to get a second PA system.
Oh the stories she tells….  the memories and talents she shares with her audience make you feel you are enjoying a night in her living room with her guitar.  But the Courthouse Center Room will have Cheryl's melodic, soothing voice and witty stories sounding like she is Carnegie Hall.     A fun, warm, friendly, hilarious, emotional, tipsy (don't forget we have a bar) night time roller coaster ride with a musical sensational entertainer.   We are so excited to have Cheryl Return…   We know you are too.
check out here lyrics here… : http://www.cherylwheeler.com/home/recent.html