Roger Ceresi's All-Starz. This Spring Fling will be jamming with talented Rhode Island Musicians. We can't wait to tell you more. watch for upcoming details soon…
Rocking and Rolling with the best of the best dance tunes and of course my favorite Ray Charles MaryAnn…. The list of the finest music this band will sing will have you moving in your chair til you can't stand it anymore and you'll just have to dance. This band of seasoned musicians is so excited to make their debut at the Courthouse for a dance party you don't want to miss.
ROGER CERESI'S ALLSTARZ 16 YEARS STRONG
PAYING 

TRIBUTE TO THE GREATEST "MUSIC LEGENDS" OF THE 50'S
, 60'S, and 70'S! 

Louis Prima, Fats Domino, Elvis, Chuck Berry, Jr. Parker, B. B. King, Ray Charles, Sam & Dave, Jr. Guitar Watson, Big Joe Turner, Percy Mayfield, Clarence Carter, Albert Collins, Lloyd Price

, Van Morrison

; just to name a few … 
REMEMBER

 

"Sea Cruise", "Ain't that a Shame", "A Good Fool is Hard to Find", "Into the Mystic", "Hold On, I'm Coming", "On the Bright Side of the Road", "What I'd Say", "Hot Little Mama", "Jackie Wilson Said", "Don't be Cruel", Just Because", "L

awdy Miss Clawdy", "Sweet Home Chicago", "Soul Man", "A Real Mother to You", "Johnny B Good", "All Shook Up"?
GUARANTEED TO MAKE YOU REMINISCE AND DANCE ALL NIGHT!
MUSIC WITH GRIT, SOUL, & PASSION!
Who are the All Starz?
Roger rocks the planet with the "All Starz". With Roger's powerful vocals leading the way and his ability to motivate and incite crowd participation, the "All Starz" will deliver high energy jump blues, rhythm & blues and a bit of rock & roll WITH GRIT, SOUL, AND PASSION THAT WILL ROCK YOUR SOUL AND MAKE YOU MOVE YOUR FEET!
"Roger, It's been awhile since I heard you sing and your singing sounds fantastic! Real good! You get stronger as time goes by. You almost made me cry listening to you sing that Elmore James tune." – 

Doug James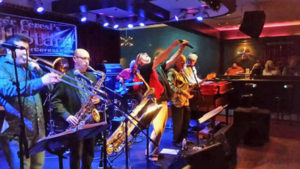 Roger Ceresi's All-Starz.  This Spring Fling will be jamming with talented Rhode Island Musicians.
Concert starts at 8pm
Advance Tickets are $16.00 in advance, online.
Online sales end two hours before the show start time.
Day of Show tickets at the Door are $18.00